You do now know this, but recently I found myself in need of a good space strategy game. And not levels-based strategy, like Homeworld, for example (which is great in its own right). No, something grand. Something that will give me the whole universe to plunder as I see fit. And what do you know... few days ago they made one just for me!
So, I will say this right away - the amount of creativity that went into this game is seriously impressive. You know what, before I go into details here, let me just re-tell you the game I already had.
I created a race of cat-like aliens who were extremely xenophobic and militaristic. They liked to attack people, and they liked to take alien slaves. I started out nicely, explored systems around my homeworld, colonized some tropical planets. Started meeting neighbors, and since my nation was xenophobic, we really didn't like each other, so I started competing for stars with one of them. All the while I gathered up my combat fleet to just go and destroy something.
At one of the planets I colonized I found a population of natives, who were pretty primitive. Well, my nation were slavers, right? So we put them to work. They couldn't mine minerals well, cause they were too stupid, but they could work farms. However, at another planed, I suddenly had a rise of a separatist fraction of my people who said that slavery is wrong and wanted to gain independence from me. At the same time slaves started breeding too much, and I had to kill a few billions of them, which resulted in horrible moral across all my star systems, production went down and I was pretty much swallowed by rivals.
Well, fuck me, that was cool.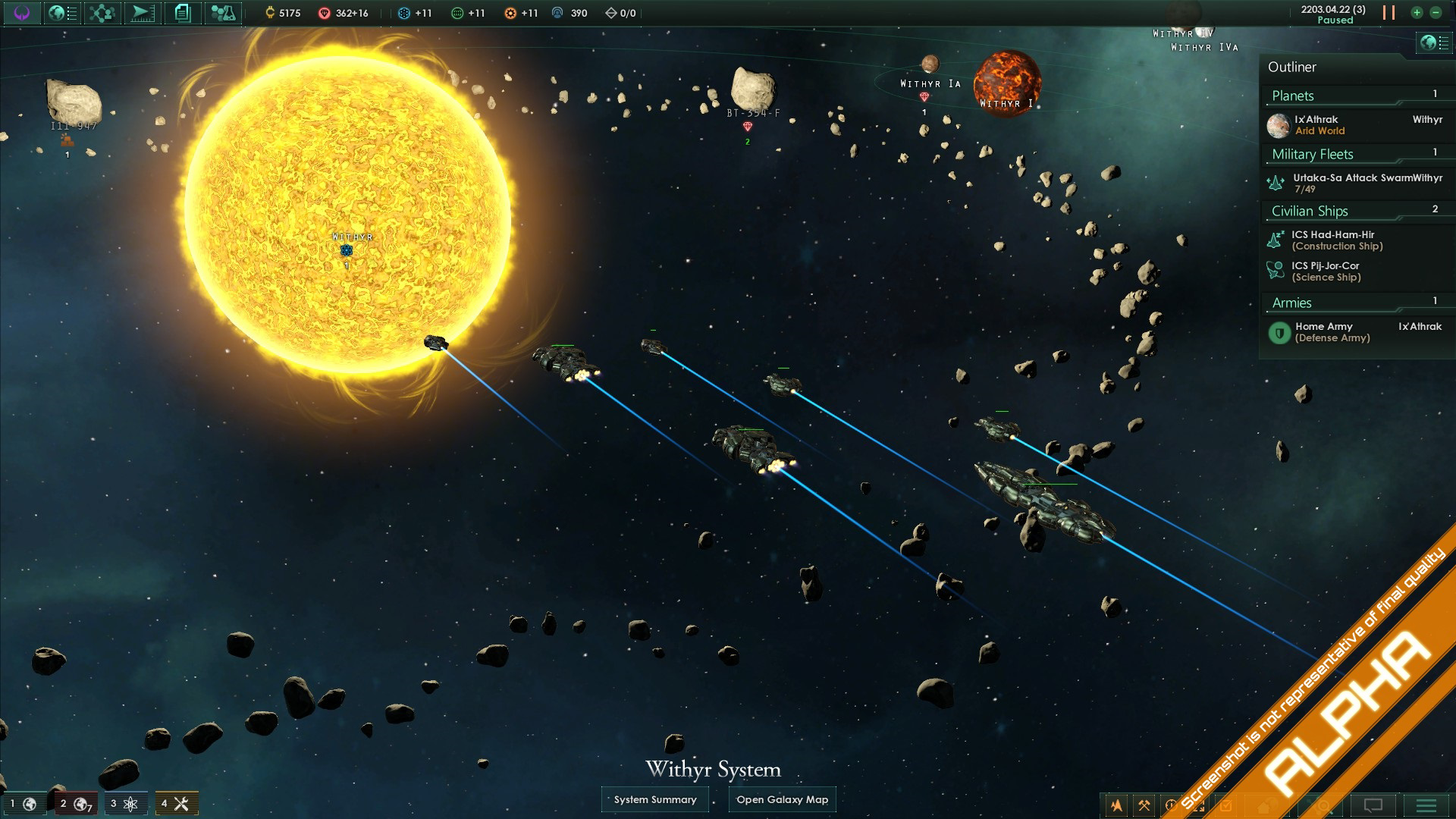 So, what is this? This is a grand strategy in space. In real time, btw. You may know that most space strategies are turn-based. This one goes simultaneously for all, but you can set the pace as you want it, and pause the game, so it's all cool. While the proceedings are familiar to all who plays such games - start with 1 planet, conquer the galaxy - every part of it is unique and very well implemented.
Main thing that most people will immediately like - it can have galaxy of 1000 star systems. 1000 fucking star systems. Tryst me, I tried some other real-time space strategy in real-time, and it lagged like hell on 300 systems. This? It runs smoothly, which is incredible. Not only that, but you can also have up to 40 starting empires, including your own. And during the game it's likely their number will only rise.
You start by picking a space nation. You have some choices, but... You know how some games got set of pre-made races with their own back-story and everything? This is not the case here. With so many possible aliens, there's nothing set, and every race is a mix of common elements in different proportions.
First you pick species, but this is just purely cosmetic choice. However, you also get to pick a set of species-related namings for your leaders and planets and stuff. As well as design your flag. It's minor touch, but it's nice.
You will also pick their traits. Your species can be strong, fearful, repugnant, industrious... some traits are positive, some are negative, providing you with more points for positive traits. They are all pretty good, depending on your style of play, so it's something to really think about even though the list isn't long. You will also get to pick your preferred type of planets - those will be initially available for colonies and just better suited for you.
You will also decide the character of your race. Are they militaristic? Are they spiritual? Maybe xenophobic? You got 3 points there, and along with giving bonuses, those character traits define what system of government you can have, which also provides its own bonuses.
Last, but not least, you pick your starting weapons - projectiles, lasers or missiles - and your way of space travel - warp, hyperspace or wormholes.
Few... and that's just to start a game! The races you previously made are saved into the game, and when you aren't playing them, you can actually meet them on the generated map as your rivals.
As you get in game, you will start with game being paused, letting you to look over your star system and get things moving. First of all, you got your homeworld, on which you can start building mines or other production buildings. Over the homeworld you got your lvl 1 space station, which makes your ships. Both planet space and station slots are limited, so you have to be smart about what you build. Though, game, thankfully, doesn't swamp you with too many options. More station slots you get by upgrading station to next levels (after appropriate research), and on the planet you might have some blocked tiles which you will have to clear up first before building.
Your mighty fleet consists of your war ships, you military transports carrying invaders during war, and of civilian ships. Military is pretty self-explanatory, but civilian ships aren't
First of all, you get your colon ship... which you do not get. Yes, in many star strategies you get one right away so you can start colonizing something. Not here. We are doing serious business here, so you will have to actually research colony ship before building one. But when you do - it acts as you expect, allowing to claim one planet.
Right away you get, however, science and construction ships, and those are extremely important. Science ship is the one surveying the star systems. Cause at the start of the game you don't even know what you got in your own systems. Planets, asteroids and even stars can be sources of resources, science or even space anomalies, which your science ship can research.
Constriction ship builds stuff in space, like defense stations, and also it can build mining and research stations on planetary resources that science ship found. Those can be built on planets that are in your empire's ever-expanding sphere of influence, and they give you big percentage of the very much needed resources.
Resources in the game can be of a few types. First of all there are credits - those are your money, that you mostly spend on upkeep of stuff. Next there are minerals - you build with those. Third resource is influence - it's quite hard to gain and easy to waste on edicts and galactic laws.
Next set of resources are 3 science resources. And yes, science is separated in 3 fields - physics, social science and engineering. Each got its own resource ticking towards the progress.
Also, there's no progress tree for science. Sure, one science can unlock some other, but you don't move linearly through them. When you learn something, you have choice of what to learn next in that field, out of 3 randomized choices. However, right from the start, you can always start learning colonization science, and that's usually what you pick first. Eventually you can learn everything, but it will take a whole lot of time.
Actually, it would take even more than that, because some special projects require one of other science sphere to stop while that project is going on. For example, when your science ship gathers debris from enemy fleet that you defeated, engineering science halts. However, you can get your enemy tech like that, so it's a fair trade-off.
While war is one way to deal with your neighbors, it's not the only one. Actually, you can't even properly destroy your neighbors. When you declare war, you actually state what you want from them. And when you lay waste to their fleets and siege their planets, they will give that to you, ending the war. You can ask for planets, for yourself or even for their own internal separatist factions, or you can just make the loser your vassals - making them share their space with you and help you in other wars.
But you can deal with them peacefully, too. You can trade with people, for alliances, even organize a real space federation, to brave the dangers of universe together. It has its pros and cons, like feeling secure, but actually passing a lot of important decisions to the current head-nation of the federation.
As the game progresses, it becomes more and more complicated. Eventually you meet space nomads, who bring you news of most galaxy races, so you can see them all on the map. You start learning more weird techs, some leading to unexpected developments, you get intricate quests from anomalies of from random events, you create sectors of your empire that AI will control for you, because you can only control a limited number of "core worlds" without penalties (that actually saves you from a lot of micro-management in later game stages). You can uplift primitives or create artificial intelligence, you can meet older decadent empires and explore ruins of alliances of millions of yours ago...
In this game you can do a lot, so it really feels like you are trying to control the huge empire, and it's never just as simple as crushing your nearest opponent.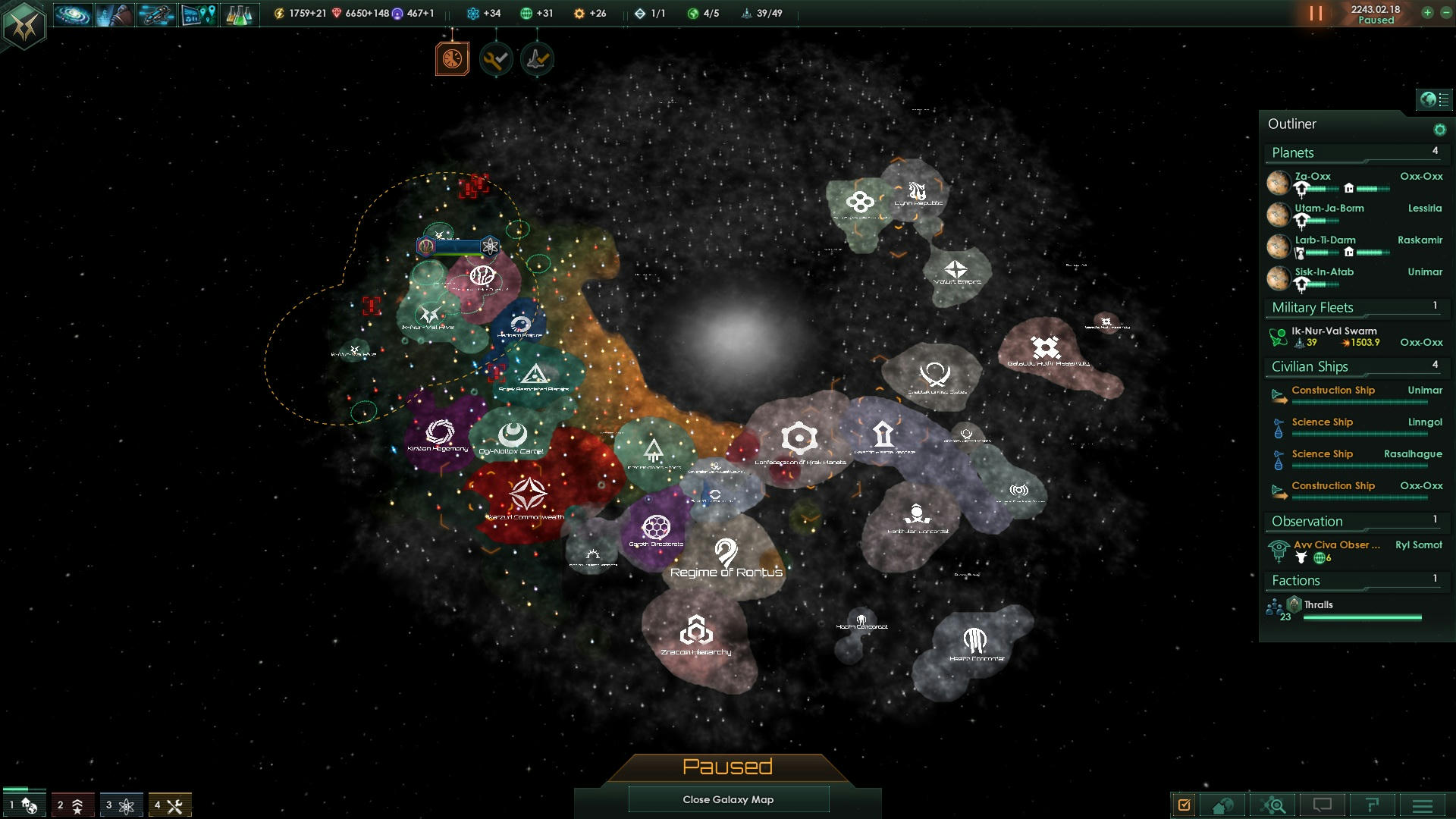 So yeah, in case that's not clear yet - this game is huge, complex and awesome. Get it right now if you are into it, it's a break-through in the genre if I ever saw one.