THIS THREAD IS OUTDATED. IT'LL STAY AS IT IS THOUGH. JUST IN CASE YOU FORGET.
news.xbox.com/2013/06/update
---
Introducing: XBOX ONE
---
Smart Console
Yesterday, a new generation was revealed. A new generation of talking and gesturing at your television, it seems. Your new Xbox will basically be an alt-tabbing, Windows 8 using, smarth phoning remote controller PC which also plays games. And isn't a PC. This would be pretty cool if these features were not required. Since Kinect comes with the console and requires it to be connected to the console for the console to work I guess we can assume that these features are not optional.
---
Discs are for installing the game. Nothing else
All of your physical games will install on to your system and render your disc useless. And what's worse is that you have less than 500gb of space for your games. This means that after a while you will have to uninstall and install everytime you want to play one of your uninstalled games in your library. If I wanted to install my games I would download them from Xbox Live or PSN, not buy a disc. This is Bluray. The disc can handle the game.
Sub accounts on your system will be able to play these games, but your friend's account won't. If they don't pay a fee that is. Which brings me to my next point.
---
Online Pass and used games fee
Remember EA "discontinuing" Online Pass? Yeah, about that... It wasn't because they saw how stupid the thing was. It was simply because it wasn't needed anymore. Users will have to pay for used games now anyways and now Microsoft is the bad guy. Perfect huh? It is confirmed PS4 will play used games, but I can't find any info if it will require a fee. Only time will tell.
---
Always online and requiring an internet connection; there's a difference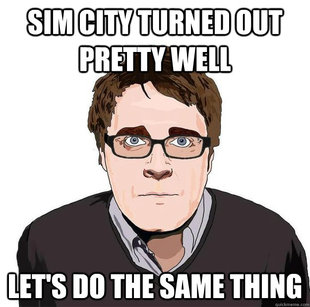 The Xbox One is not "always online". However it requires an internet connection in order to function. It will need to connect to the internet about every 24 hours in order to confirm everything with your console and games is completely legit. If you don't have an internet connection, too bad, you can't use the system.
---
Videos
Here's a professional rundown of the reveal:
---
And here's the point of view I prefer. These videos were done in the heat of the moment and it's pretty obvious. Some points are not valid anymore, but all in all this is my opinion.
This second video contains some screaming and swearing and extreme biased opinions. While I enjoy them they might not be for you.
---
"Xbox, go home." You are drunk.