After going through Telltale Batman, I decided to try another game. Which was a bit of a dilemma for me. You see, on one hand, quite a few people recommended the story of this game. On the other hand - it's fucking Game of Thrones. And I still haven't red any of the books or watched any of the TV series episodes. And not going to. So, I decided to try it while being a completely clueless about the whole setting except for the motherfucking Winter is Coming meme.
Now, I have no idea how canon is this story, however, this is how it goes: after the fall of previous king (Stark?), northen spheres of influence are brutally divided. And after the ambush at Red Wedding, one minor but noble house - house Forester - loses its lord. Their old enemies Whitehills are favored by the current crown, and they are aiming to take their ironwood trees. And kill them all, actually. So now it's up to the surviving house members to... well, survive this situation.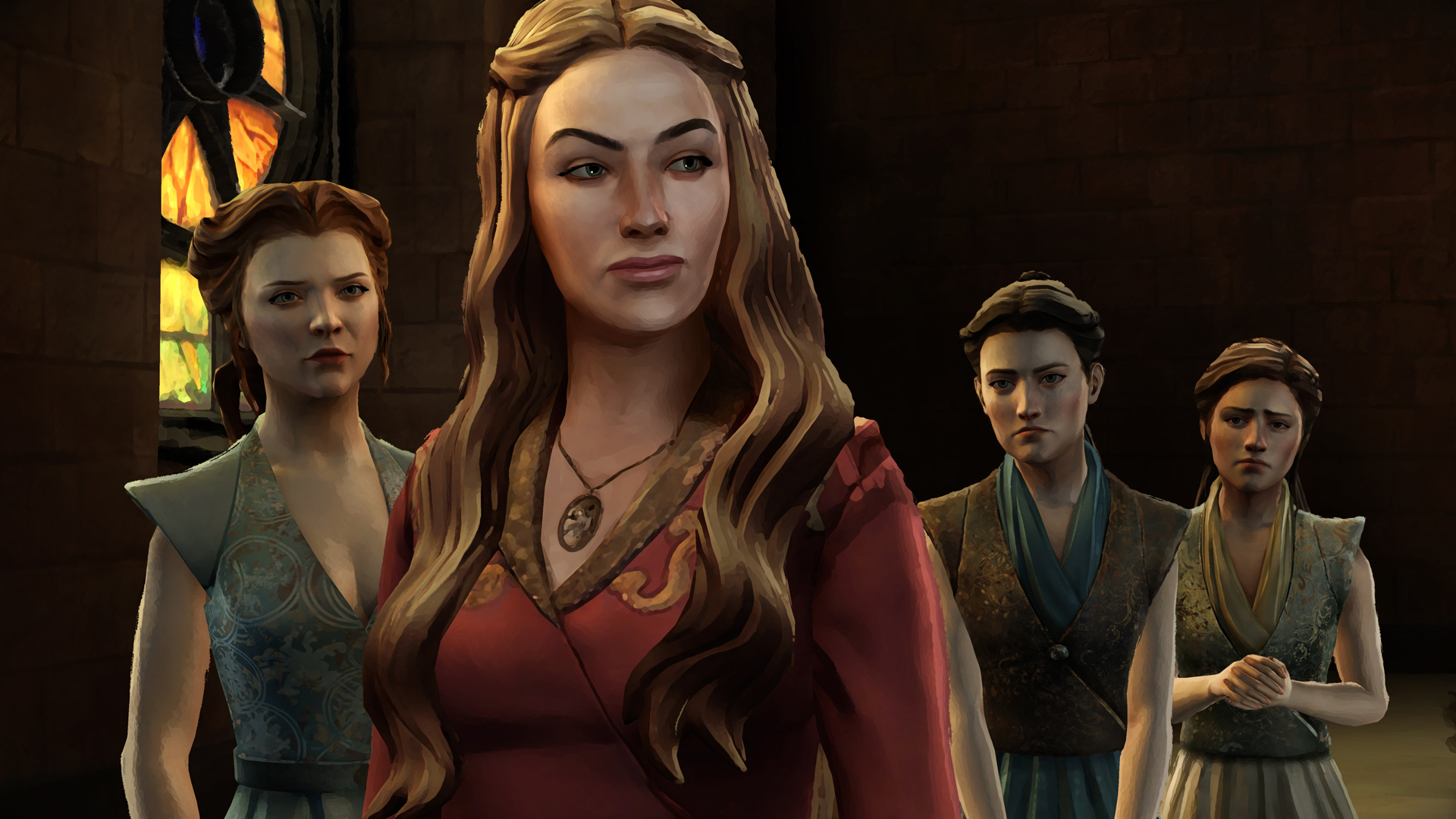 First of all, here's the usual thing: this is, once again, a telltale game. Meaning, one way or the other, even if you fuck up completely, you will be dragged through the game, kicking and screaming, to the ending. Difference is, you really are kicking and screaming. And also, this time you play as more than one character. Story of the game follows Forester family members (and Gared who is a squire) as they all try to contributy to the survival of the home, in their own ways.
Now, I will take this moment to say, that I really liked the graphic style of that one. They made the game looked just the right amount of... not exactly blurry, but... At times, the imagery feels like it was painted with oil, which is pretty nice to look at. Also, I mostly didn't notice the game music, but the song at the end of a second episode - fucking amazing.
Additionally, Telltale does work towards making more and more mature stories, I feel, and in this one... Well, it is fucking Game of Thrones. To say it is brutal would be the same as to say that I am a mildly grumpy but well-meaning person. There are fucking guts flying around in this fucking game for fuck's sake! For anyone who enjoys some blood - you will love this.
Now, the story is, as always, the most important part. And let me tell you, I never knew anything about GoT setting, but I am pretty sure they got it right. Because in this game, you feel like you are being punished for all your sins at almost every step of the story. Bad choice? Game fucks you up immediately. Hell, you can die at some points, but mostly, after you witness something really horrifying, you realize that the game just keeps going. Towards next wicked event.
That actually makes you feel for the characters quite a bit. You feel sorry for them, you worry for their fates, and you are being genuinely happy when they succeed (or at least do not die immediately). And at the same time, some of the choices, and I will not spoil anything, but some of the choices are completely inhumane. Plus, in addition to main guys, game has really nice cast of supporting characters, including both characters from the series - voices by original actors - and new range of people to interact with.
All in all? This is the usual Telltale game. But the story is one of the most brutal and unforgettable ones I have ever encountered in a game. It is very much justified that they did 6 episodes for the season, instead of the usual 5. And, naturally, they do give a cliffhanger for the possible continuation.
I purposefully haven't spoken about any particular story event, to avoid spoilers in case you would want to play it yourself. Though, I can tell you right now, often, knowing what would happen doesn't save you from the brutality of experience.
And, as always, if you want to just watch someone play it here's the playlist for my attempt full of fail.