This.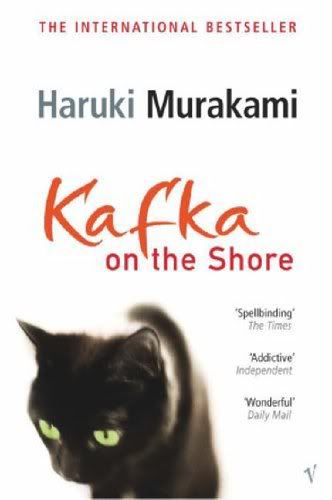 After 1Q84, i was positively lusting for more Murakami. I forced a friend to buy this so that I could borrow this and told him he could expect it back....NEVER. I am just 15 pages in, and I can see this will go well. Preconceptions? Just read the fucking description, you will know it too.
Kafka Tamura runs away from home at fifteen, under the shadow of his father's dark prophesy. The aging Nakata, tracker of lost cats, who never recovered from a bizarre childhood affliction, finds his pleasantly simplified life suddenly turned upside down. As their parallel odysseys unravel, cats converse with people; fish tumble from the sky; a ghost-like pimp deploys a Hegel-spouting girl of the night; a forest harbours soldiers apparently un-aged since World War II. There is a savage killing, but the identity of both victim and killer is a riddle - one of many which combine to create an elegant and dreamlike masterpiece.
Now that college has started, I will be with this book a while. But, this is one book I don't mind being stuck with. It does help that I read all my texts and a lot of essays in the vacations. Gives me free time which my teachers hope I'll use making notes and shit. Well, I have a much better use.
shhh... they can never know