Do you enjoy taking long walks in the middle of nowhere? Do you like hunting small, cute animals and killing them for their low level loot? Do you enjoy grinding out minimum amounts of levels with your friends for hours and hours? Do you like gelatin? Are you a masochist?
Then Ragnarok Online is the game for you!
Ragnarok Online is a Massively Multiplayer Online Role Playing Game (MMORPG). It was created by the Gravity Corporation based in Seoul, South Korea. Ragnarok Online (RO) allows you to create a virtual character, customize it, and partake in epic adventures across exotic lands. RO is a great way to hang out with friends as well as make new ones. With an ever-expanding universe, in-game events, and a large community of users, there are always places to see, things to do, and people to meet in the world of Ragnarok!
And now, for your gaming pleasure, RO is available for free on Steam! For those of you who have never played RO before, you may not understand just how fantastic that is. Because you've never experienced "downloading Ragnarok Online."
cue the dramatic music.
Now, for those of you who don't know what Ragnarok Online is, let me give you a quick briefing.
In RO, you begin your journey as a Novice.
You have two levels; a Base Level and a Job Level. Your Job Level is what you will need to level up in order to become your First Class, Second Class, and so-on.
There are 6 First Classes that you will be able to choose from once you reach Job Level 10:
In Ragnarok Online, a character's abilities and skills are defined by their class (also known as job). Characters start out as Novices, then once they reach job level 10 they can choose between a variety of first job classes. After attaining Job Level 40 they can then change to a second class job, either 2-1 or 2-2. Once Base Level 99 and Job Level 50 as a second class, they can choose to transcend and start the process again, being rewarded with a more powerful, transcendent character. A 2-1 or 2-2 regular or transcendent character can then chose to change to a third class, which breaks the level 99 barrier. The current maximum base and job level for third classes are 150 and 50.
There are an additional 3 Extended First Class Job's that you may choose from. However, 2 of them do not further level into anything. Those are Ninja and Gunslingers. It is usually recommended that you start out with one of the main 6 First Classes before experimenting with an Extended Class, which are for more advanced players who understand the mechanics of Ragnarok Online.
---
Now then, like any MMORPG, you can create parties with friends in order to challenge high level dungeons together, level up faster, or to complete quests.
screencap by me~
There are hundreds of monsters and dungeons that you can encounter in Ragnarok Online, and over 20 Classes for you to choose from while leveling up your character! Each Class provides you with a whole different set of buffs, abilities, and techniques. Some classes obviously require more skill than others, but you should eventually get the hang of it.
---
It's not all about fighting in dungeons. There are plenty of other fun things to do, like participating in special events, joining a PVP match, catching pets, or getting married to your friends.
screencap by me~ i'm the one in the black tux with horns. the blue haired girl is also mine.
You can also explore RO's gigantic map and visit other towns or cities.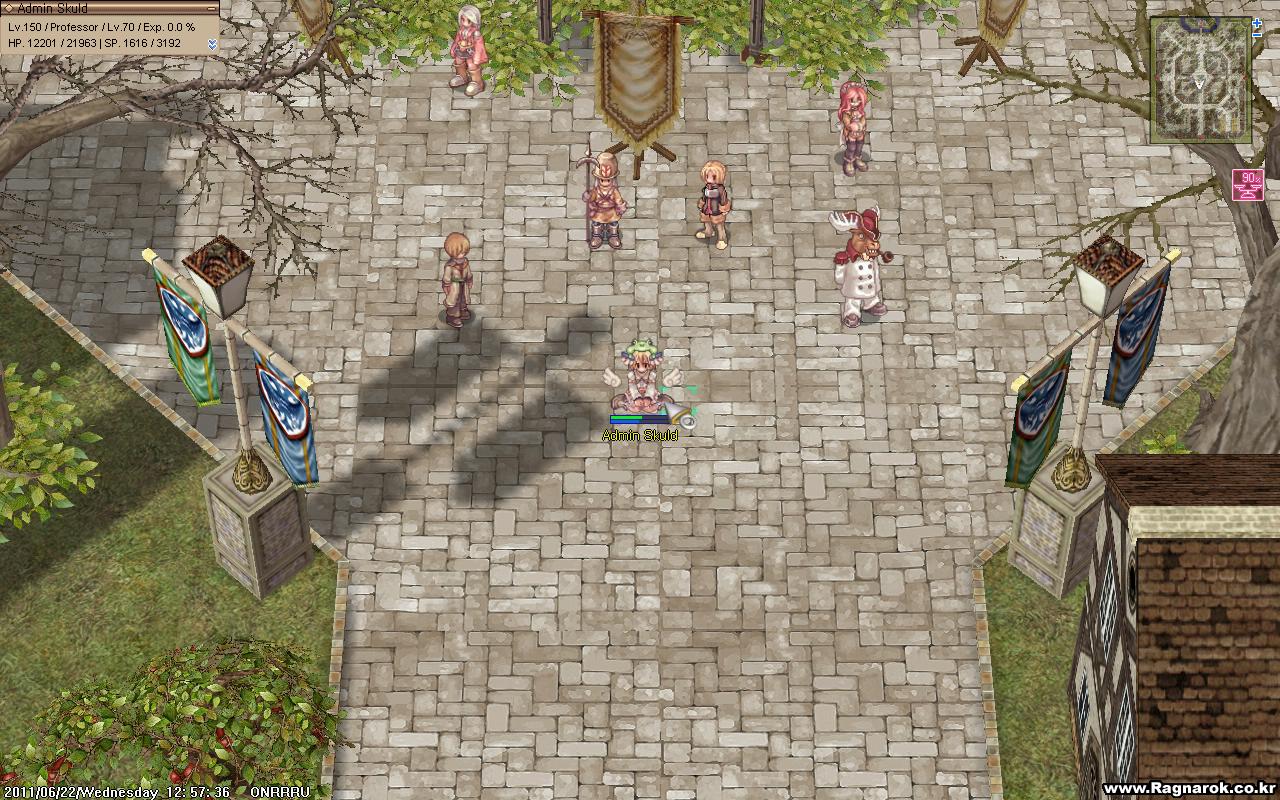 images found on google.
Sometimes certain events will reward you with items for your character, or cards, which are items that you can attach to gear to give yourself extra points in certain stats or permanent buffs.
Stats are the points you distribute to your character after gaining Base Levels, where as Skill Points are what you obtain after gaining Job Levels. This part is pretty self explanatory, and you always want to distribute points you receive into what you think is best for your character.
(example; you would give your Swordsman Vitality and Strength so that they can be tough and tanky!)
---
I think I've talked your ears off enough. If you would like more information about Ragnarok Online, here is the iRO Wiki website. It has everything you need to know, including information on gear, what the best builds are for certain classes, and where your Job Changers are located!
---
Happy hunting you damn masochists. o/