Because this game deserves a separate thread.
So. I first saw this game on Steam some months ago, I guess. At the time the game had no story mode and it was just a sort of a core game made ready for multiplayer. So, I spent some time playing it, cause it was free anyways. The game was a sort of Vikings-styled turn-based RPG. The mechanic offered interesting combat, and overall it was a good experience. Naturally, after a few days, I stopped and moved on to other titles. Now I found this game on Steam again - with story mode finished and... gods be damned, this is the best turn-based strategy I have seen in years!
Now, let's look at mechanics of the game. You have a squad of fighters - six of them - whom you put on the battlefield. Naturally, they all have different stats, and that's where you see the main element of the battle system different from what I usually see. Two main stats are Strength and Defense. Strength is the health of your character. Defense, as you can clearly guess, blocks the damage to that health. But here's the trick - Strength is also... well, strength - how hard can your character hit. So, when facing the enemy, you have to decide - would you first take out his armor and quickly finish him of, or do you try to go straight for his health, doing less damage, but at the same time making him do weaker hits to your troops? To this you add the defense breaking stats, the fact that every unit got special abilities and the morale stat that allows your units to add damage to your hits or walk further. Plus there are many types of units, some of which are melee, some archers and some even take up 2x2 squares on the battlefield. Naturally, as your units kill more enemies, they gain experience and can be improved, raising stats and making special abilities stronger.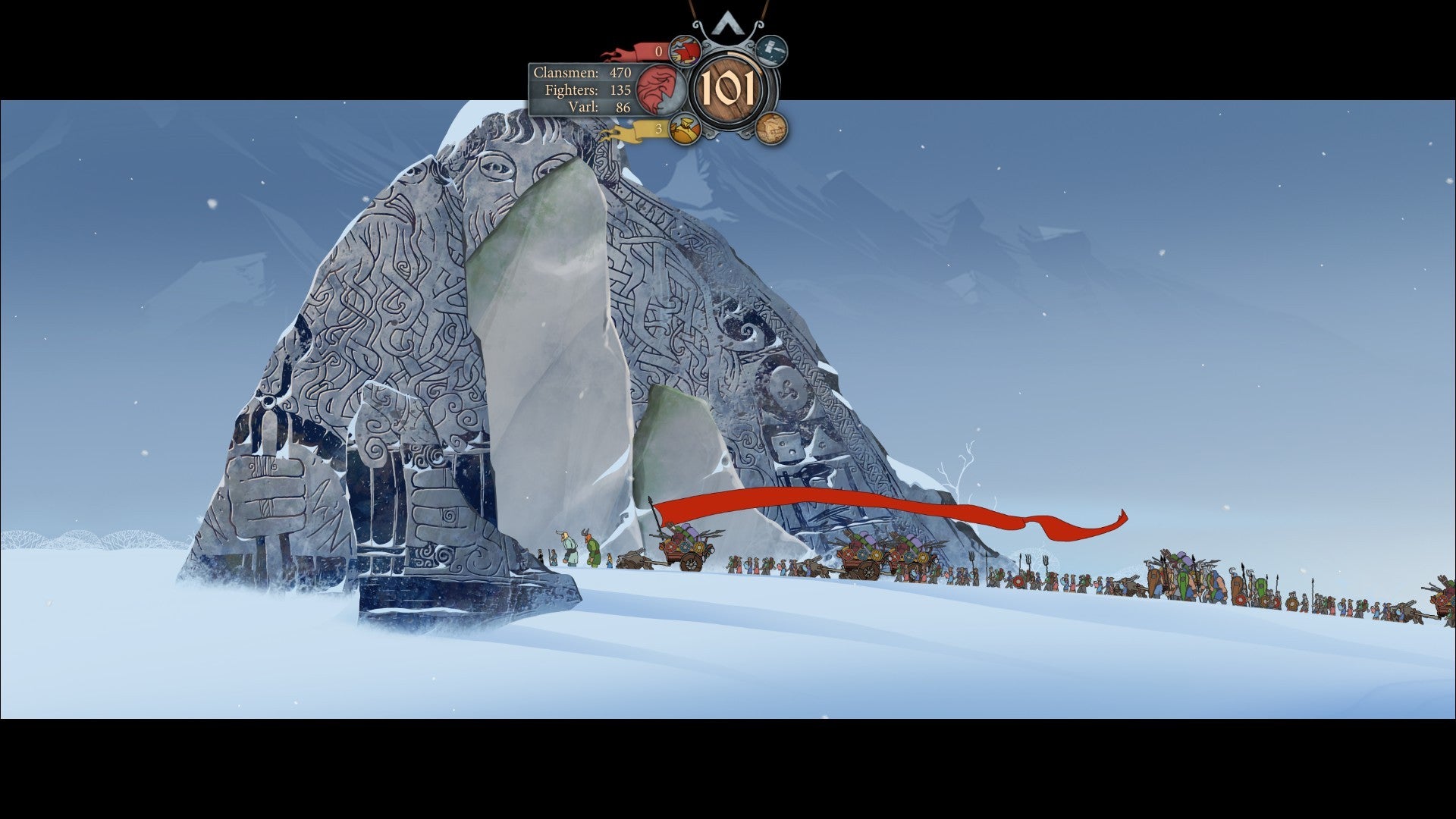 Now, the mechanics of the fight are good. When you play more, you instinctively see what would be better to do in any gives situation. And it's not really complex, so you are not burdened by it. However, it's just the mechanics of the fight. In story mode you are given another layer of the game - going somewhere.
And I will tell you right now - going somewhere is what you would be doing most of the time. You are the leader of the large caravan, and you go through the northern lands, fighting enemies and meeting other challenges along the way. This adds more things to think about. First of all - caravan morale. This is quite an important stat, cause good morale also gives your units a morale boost in the fights meaning they get to use up that morale for bigger damage and special moves more. Morale can be improved or decreased by in-game events, good battles or your own choices (more on that later), also it just naturally goes down as you march away.
That's why at times you need to make camp and rest. Well, camp is more than that. When you camp out in the wilderness, you gain access to your heroes and can improve their stats (spending renown, which is the in-game currency that you get during battles and some events). You also can do training battles where you would go against random but somewhat equal squad. You can also rest - you stay there for one day, and resting improves morale. Also, if you make camp outside some village or town you come across (happens automatically), you also usually get access to market where you can, using renown, buy items for your heroes or supplies. Oh, and you do need supplies, cause your caravan needs to eat, so that's another stat you are hit with - supplies for how many days of traveling you still got. Oh, and just so you know - you caravan consists of hundreds of people.
Yes, you are not just a traveling party of heroes. The characters in the game take charge of many people, and those people you have to care about. They break down into three categories - you have civilians that are traveling with you for some reason or other, you have warriors meaning human fighters and you have varl, meaning.. well, varl. I will get to them later. All three groups have to eat. But they don't just waste your food, 'cause, except for civilians, they can fight. And yes, at times you would find some enemy army and you would have to pick tactics for it. But also, while the armies would fight, you would also be given a choice to join battle with your elite squad. And you should, cause that raises morale and helps save lives of your warriors. Now, I am not sure if civilians play any part in those battles, cause for now I only fought army battles while having no non-combatants. In any case, this is a decent mechanic, that makes you worry not only about your heroes, but about the people they lead. But not as much as the next thing - decision-making.
As the story progresses, you see events from the point of view of one of the characters. Those actually switch, and I will talk about it later (yeah, I am putting a lot of things for later, but no worries, I will get to those). Anyways, you are the one most responsible for the caravan, so you have to decide on a lot of things. Some choices would be talks with other characters in camp. Some would be simple enough choices like pressing on the enemy in army battle. Some events are totally unpredictable, like having to deal with a drunk in your caravan who bothers everyone else or missing on an important decision resulting in some characters losing patience, getting into a fight and dying. Decisions can affect a lot - morale, getting supplies and people, losing supplies and people, future talks with characters... For now I have no idea yet if I can seriously affect the story or the destination of the caravan, but... I guess it is also possible. I am pretty sure there was already a choice of not stopping in the town where I stopped, but I kinda don't want to ruin my current game by checking that.
So, there are the mechanics of the game, as good as I can give them to you. Now I want to talk about what made me literally fall in love with this game. The setting and the story.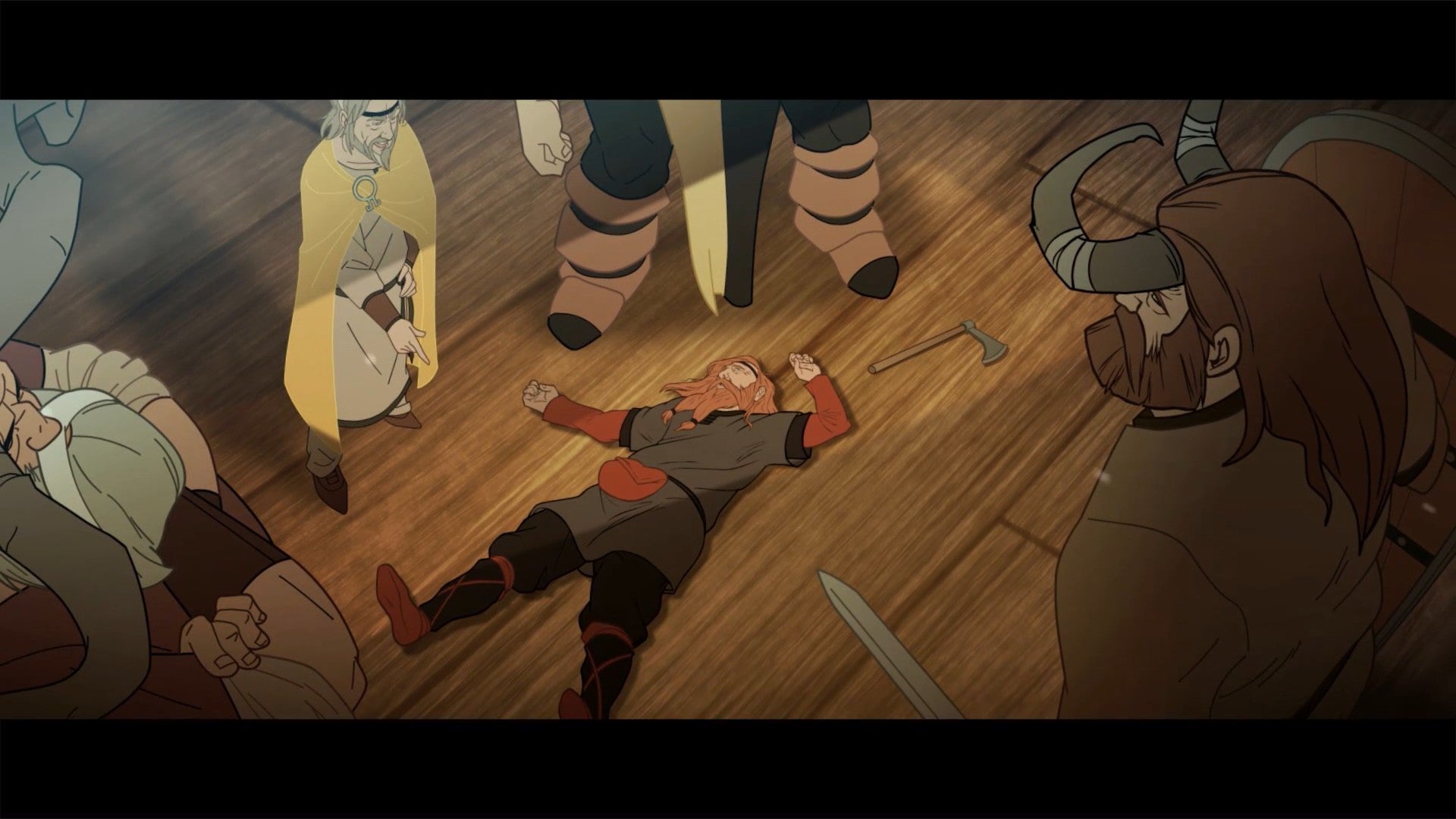 The setting of the game is clearly inspired by Norse-mythology and has the whole Celtic-Norse feel to it. The world is not ours, obviously (you get the map to it very early, so you can clearly see that. Also, the map is extremely cool, with all places and landmarks and even many roads having a description). In this world the Ragnarok happened some time ago, and the gods are dead. So now the races of humans and varl - who are horned giants twice the size of a man - have to survive themselves, without any godly help. To make things harder, at some point creatures called the Dredge (they look like a big black stone warriors) appeared, so humans and varl had to fight those. At the start of the game those wars are long over, however now - actually, just some days ago - the Sun stopped. You know, just stopped in the sky, so now it's a constant day, and noone has any idea if that's the bad sign or a good sign. Though, it seems that it's a bad sign, cause now the Dredge are appearing again.
This is the world you get, and it's pretty cool. If you like Norse-styled stuff, you will absolutely love it. If not, well, you would still appreciate the amount of work that went into it. I am telling you, the map alone is mind-boggling and huge. And I, after playing like 2 hours, only moved for about 20 cm on it.
The story, as I said, switches between characters. Actually, let me recap what has happened so far. It's not really spoilers, cause, as I said, this is only the first two hours, and I won't be revealing any decisions. So, you start the game as an old varl tithe collector, coming with a small regiment of varl warriors to a human city on the west border of varl lands where he is asked to help out with local disturbances. While staying in the city, you meet the combined varl/human force, led by future kings of both races on a diplomatic mission. Since they, just like you, are heading to the varl capital, you join with them, but along the way you are ambushed by Dredge and now have to battle your way through.
Around that time the story switches to Rook - respected hunter in the village far to the east. While hunting with your daughter, you stumble upon the Dredge. As your chieftain dies when the enemy attacks the village, you are now burdened with a position of a chief, and have to lead refuges from your village as far away from the Dredge as possible. Or at least to the nearest city with strong enough walls.
These are the two stories I found so far, though they might as well be the only two main plot lines. On one side you have big varl/human army who fight Dredge as they see them, on the other hand you have a caravan consisting mostly of civilians who just try to escape death. For now I have no idea if those two caravans would even meet - sure, at the moment they kinda go closer to each other, but looking at this map... no, I honestly have no idea if they would ever meet.
The story is complemented by some very good art. Now, animation in the game is not too complex, and during dialogues every character has a pretty static image. But still, this is very nicely done, and the backgrounds you see during your travels are extremely detailed and well-made. There's also voice-acting, but so far I haven't heard too much of it. It doesn't stand out much, but it doesn't feel bad or out of place. You get some descriptions of places you visit this way, but I guess I would be hearing more of it during plot scenes also.
All in all, this is an extremely good game. Simple mechanics that, at the same time, make this game interesting to play, and engaging story and characters. With, as I said, incredibly great setting. And I can't even imagine about all the replayability... I mean, yes, choices don't look too story-affecting yet, but picking even a few miner options differently would likely give you some completely different result in short or even long run.
I recommend this game to everyone who likes turn-based RPG games... and actually to everyone who likes to play games. You won't be disappointed if you would try this one.