Useful stuff
Program to record your singing: Audacity. Pretty simple to use. If you are using that, make a recording and then export it to mp3 through File menu - it will create a usable file.
Also, in case you make a file, and aren't sure where to put it, like SoundCloud or something, you can use MediaFire site to upload your recordings.
Lyrics (may yet be changed, follow the updates)
This was a triumph.
I'm making a note here:
HUGE SUCCESS.
It's hard to overstate my satisfaction.
Aperture Science
We do what we must
because we can.
For the good of all of us.
Except the ones who are dead.
But there's no sense crying over every mistake.
You just keep on trying till you run out of cake.
And the Science gets done.
And you make a neat gun.
For the people who are still alive.
I'm not even angry.
I'm being so sincere right now.
Even though you broke my heart.
And killed me.
And tore me to pieces.
And threw every piece into a fire.
As they burned it hurt because I was so happy for you!
Now these points of data make a beautiful line.
And we're out of beta.
We're releasing on time.
So I'm GLaD. I got burned.
Think of all the things we learned
for the people who are still alive.
Go ahead and leave me.
I think I prefer to stay inside.
Maybe you'll find someone else to help you.
Maybe Black Mesa
THAT WAS A JOKE.
HAHA. FAT CHANCE.
Anyway, this cake is great.
It's so delicious and moist.
Look at me still talking
when there's Science to do.
When I look out there, it makes me GLaD I'm not you.
I've experiments to run.
There is research to be done.
On the people who are still alive.
And believe me I am still alive.
I'm doing Science and I'm still alive.
I feel FANTASTIC and I'm still alive.
While you're dying I'll be still alive.
And when you're dead I will be still alive.
STILL ALIVE
STILL ALIVE
Recording tips
You must record your singing only, do not make a recording with music - we will add it later. Just you singing. Try to make sure there are no other noises. Record in a quiet environment. Try to remove all sources of noise like pets and other people. Pretty much just try to make as clear a recording as you can and export it (if you are using audacity program) to an mp3 file.
To get a better recording and not blow into microphone, try holding the mic not under your mouth but above it. Personally, I hold my mic slightly to the side of my face. It helps.
Screenshot instructions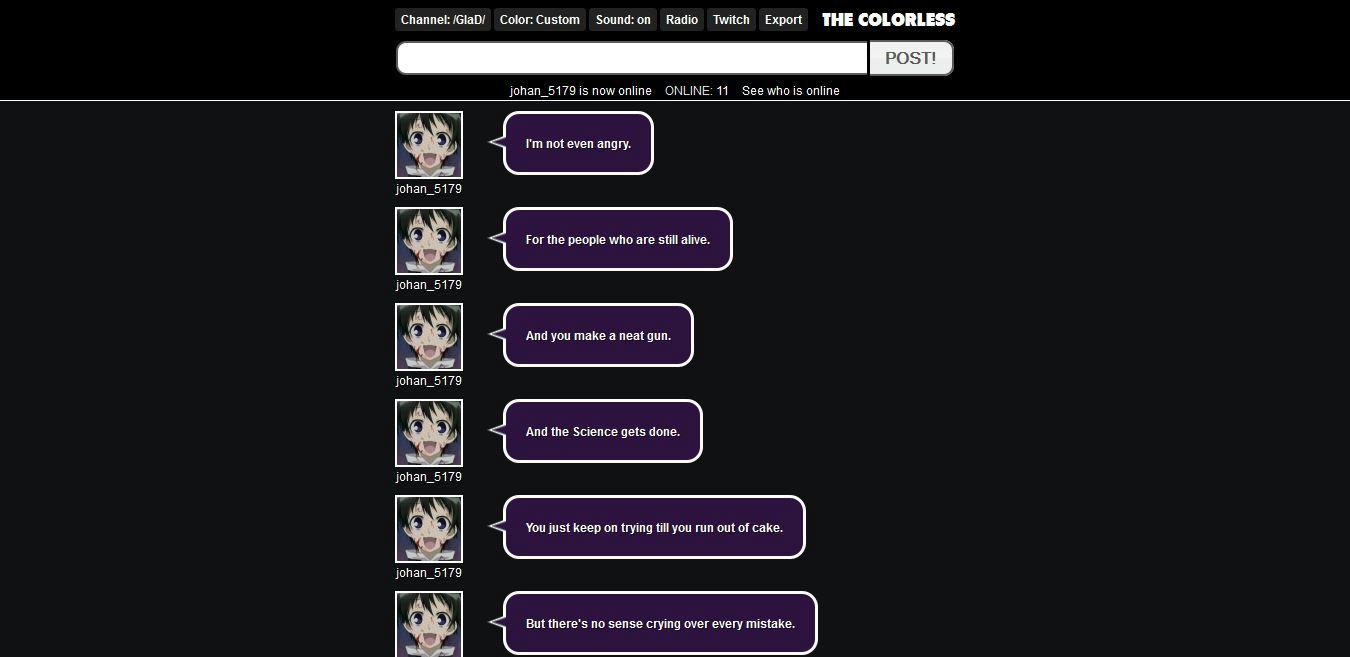 This is what we will need. Screenshots of you saying all the lines of the song in CL chat. Notice that you should make those using DC's CL chat version. Now, to not bother other people on main, you should make your own channel. To make the channel, you can make the channel from the normal chat and then use DC's version to get there, or you can just switch the "main" in DC's channel link with whatever you want your channel name to be. It is also recommended to make your channel name very short, so it would not mess up the layout. 4 letters would be best.
Things we will need: all text bubbles with all lines, as they are in lyrics presented in this post. Message of you being online.
When you have all the screens, you can either archive them and put up the file on mediafire or similar site, or you can just upload the screens to any of the image-uploading sites. Try to make a good resolution - meaning, if you upload the images, do not resize them.
Song tips
If you listened to audio commentary to Portal, you know that Ellen McLain - the voice of GLaDOS - is a singer... But she is an opera singer, so that was not the usual thing for her to sing. Yet she did admirably, and so will you. Now, enough spirit-building, let's get to work!
From watching the video you will see that the song is divided into parts, and every part starts with the singing being very mechanical, pretty much almost talking, and then it goes into proper singing further along. And the voice is being emotionless... and yet, emotions are there, in very subtle ways. Mostly sarcasm )) Also a thing to notice - the word cake. When that word is sang, it seems to be deliberately out of place, like it was picked from a list of words to go into that slot and it should have been something else, but ended up being cake. Think of the computer program that tells you 'Welcome to CL, ', and it get's your name from a database, and it always sounds not as proper as the rest of the sentence. If you know what I mean.
The song is full of details and intonations while being mechanical, and you would get that better if you have played the game, naturally. If will start hearing it better a you listen to it more. Still, the main thing to remember - it goes in parts and every part is going from monotone to melody.
If you would have any additional questions, you are welcome to ask them in the thread or by contacting the chorus staff by PM or through chat.