Kirn


99th percentile
"Believe me, if I started murdering people, there'd be none of you left" - Charles Manson
Shovel from Hell badge by @OneDollar
Twice moderator, twice retired, five times permanently banned. All posts before 17.11.2012 were deleted by previous administration. Wielder of the Blood-Stained Shovel and the local sick evil fuck. Owner of the CL News, oldfag, terrorist, slayer of admins, veteran lurker and the person who gets things done no matter how many people would die in the process. Approach at your own risk.
Art by @Shirosuke
Art by @TeruShinozaki
Art by @Izukio, background and blood by @Kiboune
Art by @Ecstasy
Arts by @Lieutenant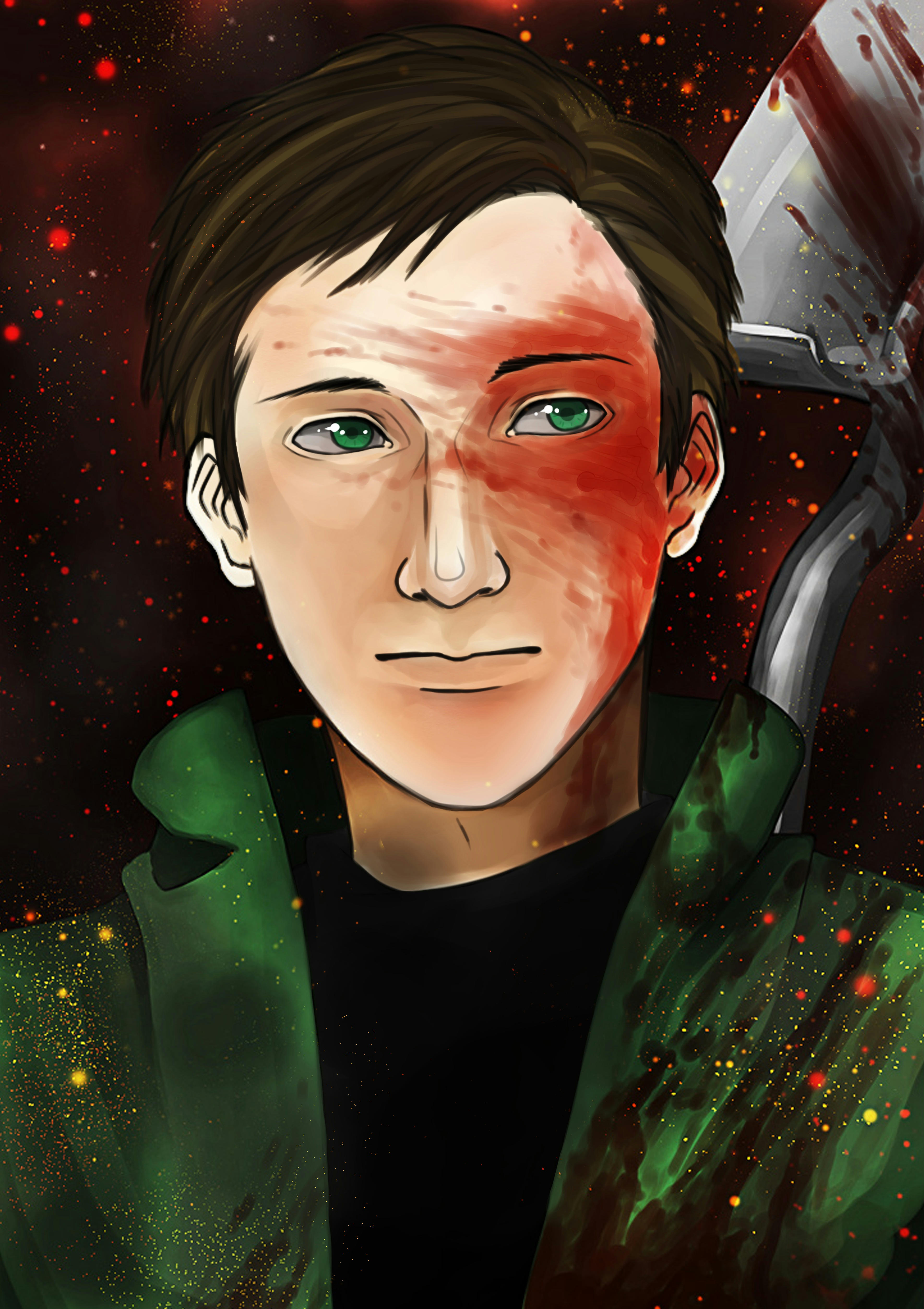 ---
Kirn joined on May 4th, 2010, since that has made 1922 posts that are still accessible today, 72 of which are threads. Helping shape the community, Kirn has given 2286 upvotes, and was last online on Jul 23rd, 2016.
---
In my country kids are beaten for educational purposes. And, at times, not even by parents. Beat them kids!

Alright! I can see we have enough interest to make a chorus. So we are making a chorus. Yep, that simple. I will be putting up deadlines and lists other related stuffs. In the meantime, if anyone else wants to join, don't hesitate to sign up.

I feel like I haven't added anything here for a while... So here's two more:

First one is AMV for Planetes anime with "Everybody Wants To Be An Astronaut" song by Royal Republic. One of those cases when anime and song are pretty much about the absolutely same thing. This one speaks for itself, and it's both good video material and song. Too bad it's only about 2 minutes long.

Well, this one, in turn is whole 5 minutes long. Song is "Saturday Night" by Bay City Rollers... and also "Saturday Night" by Hi-STANDARD. And it's a mix of fuckton of animes. This is just pure dance fun. Well made and well mixed, and watching some of it, you can't help but laugh. Also, yeah, as I said it's 5 minutes long... and switches a beat somewhere at the middle for more fun.

Hmmmm... I feel like this thread is in serious danger to go into being Musim-related news... which is something I would like to avoid, and that's certainly not a discussion to have here...

In any case, @armedzerox, religion was basis for a lot of people to go and kill other people. Like, for example, Crusades, when a lot of Catholics went to kill a lot of non-Catholics. That was fun, too. And they were told to do so by priests, who, at that time, were the most intelligent and well-studied people. Something akin to professors today. So, it doesn't even matter if what they say is true or just, it's just something that happens because it works. For hundreds of years now.

Additionally, to look at it from "how can scholar say that" perspective. Not all scholars are brilliant, and not all of them are good people. There are ways in the world to get a PhD, and there are people who abuse whatever title they are given. The most notable example I know off would be global warning issue. You may or may not know this, but most every scientist who actually looked at the issue said that it is in fact a real and dangerous thing. However, many people believe that "scientists can't agree about global warning". And that is because there is whole other side that want to keep current state of affairs, and they hire people with degrees to create a sort of bogus scientific opinion for them.

So yeah, it is weird to see supposedly educated person to say stuff like this or that. But that's how humanity is, and you can see stuff like that a lot if you really look for it.

@EvoRulz I would advise to make a full recording, so Lt. can pick the best parts and just have more freedom with mixing. Don't hurry though, try the song, sing it right. As I said, for now we are checking interest, so it's not start of official "recording time" yet. Though, yeah, nothing stops you from starting to try recording already

DEADLINE: 12.02.2016

List of singers:

@armedzerox
@CloudVariasKira
@Cyth
@EvoRulz
@Kirn
@Lieutenant
@MrTrain
@Teru

How to record your stuff and what to do with it after:

For recording, I recommend using Audacity program. It's easy to install and use, and it's pretty much what most people use and what we use for sound mixing.
What we want from you is just the recording of your voice. No background music, just your voice. Obviously, recording with the least amount of any background noise would be best. So just get your headphones on and sing. Simplest way is to sing while listening to the original audio, which is how I usually do it.
After you made your recording and are content with its quality, you can send it to us. Upload file somewhere where we can download it from and PM the link to @Lieutenant or me.
Also send the picture you want us to use as your avatar with your recording.

Lyrics:

"Everybody Loves Me"

Well, hell sees her shadow in my backseat
And her friends are standing right in front of me
World wide from the Cimmaron to Turkey,
Open up said, "Everybody loves me!"

And you don't have to make a sound
'Cause they got what you need (what you need)
Oh oh oh oh

Got love for the people that have warned you
God love all your sentimental virtue
Eight balls with the takers that'll make you
Late calls with the lovers that'll hate you

And you don't have to make a sound
They got what you need
What you need
Make ya say

Oh my!
Feels just like I don't try
Looks so good I might die
All I know is everybody loves me
Head down,
Swaying to my own sound
Flashes in my face now
All I know is everybody loves me
Everybody loves me

Well, I play the music don't stop till I turn gray
Stars forever like Don Suzan never fade,
He had a beautiful child, named her Desiree
Hope I'm remembered for the things that I never made

'Cause you don't have to make a sound
When They got what you need
Make ya say

Oh my!
Feels just like I don't try
Looks so good I might die
All I know is everybody loves me Head down,
Swaying to my own sound
Flashes in my face now
All I know is everybody loves me
Everybody loves me
Everybody
Everybody
Oh
Everybody
Everybody

Don't need my health
Got my name and got my wealth I
Stare at the sun
Just for kicks all by myself I
Lose track of time
So I might be past my prime
But
I'm feeling oh so good
YEAH!

Oh my!
Feels just like I don't try
Looks so good I might die
All I know is everybody loves me
Get down,
Swaying to my own sound
Flashes in my face now
All I know is everybody loves me
Everybody loves me!
Oh I said
Everybody
Everybody
Don't you know you wanna
I said Everybody
Everybody
Everybody
Whoa!

14.02.2016 project complete!

---

Hello, one and all. Somehow it feels like we haven't had many choruses recently. So how about we do something about it. Plus, last time I organized a chorus was almost exactly 2 years ago, so yeah, I think it's time to try doing it again.

What I want to do is make a CL chorus for the song "Everybody Loves Me" by OneRepublic. Here it is:

As you can hear, this is a pretty upbeat song, and something, I can feel, people just can have fun with while singing. Plus, really, who wouldn't want to sing about how everybody loves him/her? Only sad people!

Also, since I recently tried to dabble with Sony Vegas, I will try to be not just manager and singer on this one, but also video-editor. That will be a challenge, and I have no idea if video will turn out any good, really. For audio-editing I would like to invite @Lieutenant, and with her music/voices mixing experience, you know that the audio will be good. So it will all balance itself in the end.

Deadline is now set, and we have a list of singers! Now it's time to sing! Do it! Also, if you aren't on a list, but still want to just - you are welcome to do so. Just read recording guidelines in the next posts, and make your recording before the deadline.